The warmness through the nature by the wools of New Zealand with the colours of the world.
The Hand Woven softs cotton from the fields of country side.
Eco Friendly man made fibre the glittering shades of diffrent kind polyester threads.

The out door carpets known as the Grass carpets imported from China now in India to cover the landscapes.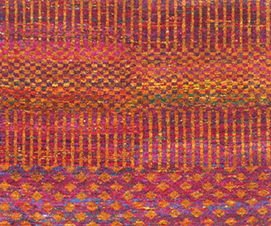 Customize Your Ideas and Photos and now create your own carpets and fill it with your color of Imagination.
Rita International – Best Carpets, Rugs Manufacturers & Exporters in India
Buying a new rug is more than just going to the market and picking one. It is a process, and the rug, after you've bought it, has to connect more than just to the surroundings. Handmade carpets and rugs are supposed to offer you the much needed warmth, and without that connection, their beauty can't be fully realized.

When you buy a rug, there are the basic details of colour, size, texture and shape that you need to consider. We at Rita International are one of the biggest rug manufacturers in India and carpet exporters as well as carpet manufacturers in India which are not only useful but also fit within the contexts of its intended surrounding. We make sure that the hand tufted woolen carpets or rugs you're buying isn't unnaturally washed out, or faded, or shiny and that you get the best hand-made carpets which are free of texture and colour anomalies.

Our carpet designing process is centred around the tradition and lineage these carpets are a part of. Most handmade carpets we manufacture come with designs and patterns that have been handed down for generations in the families. Our carpet designs speak for a rich tradition, a rich culture, to which art is vital. We make sure that as carpet manufacturers in India, and hand tufted carpets are intricately woven, individually. Each rug is made from threads, minutely knit together into the ornate designs by hand, the beauty of it owing to the hard-work of dedicated artisans.

A rug can be the crown jewel of the décor of any place. It adds more than just a pretty thing to look at. With a rug you bring in the love and hard work of artisans who've worked on it by hand. You also bring to your home the tradition and beauty which the art of rug making is a part of. With our 'customer-first' service approach as carpet exporters, you can get a rug of your choice at your doorstep around the world.

As an Indian carpet manufacturer, Rita International guarantees you the absolute best!